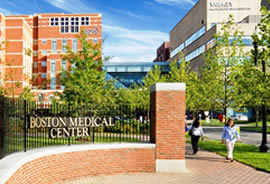 BMC - The CATCH Clinic at BMC (Child and Adolescent Transgender Center for Health)
As part of the Department of Pediatrics at Boston Medical Center, CATCH is committed to providing support and care to children, adolescents, and young adults across the gender spectrum. Whether you or your child identify as transgender, non-binary, or is gender exploring, our dedicated clinical team is here to assist you every step of the way. CATCH officially launched in June of 2017, and currently supports more than 100 patients and their families throughout the northeast. They have an incredibly diverse patient population across socio-economic, racial, and cultural lines, as well as across the spectrum of gender identity and expression. CATCH seems to be catching on, and is adding new intake slots so that youth and their families do not need to wait more than 4-6 weeks to get an appointment with us. They have a multidisciplinary team of medical and behavioral health providers, nursing, pharmacy, and administrative staff, and patient navigators. They ensure that youth and family gets the support they need, when they need it. During the initial visit, patients and families will meet with a medical provider and social worker together. Medical, mental health, and gender histories are reviewed, followed by a discussion around youth and family goals and gender affirming care options available at CATCH. These include:
• Parent education and family support
• Individual therapeutic support, including connection to community resources
• Access to onsite hormone blockers (both injections and implants)
• Gender-affirming hormone therapy (estrogen and testosterone)
• Referral to and care coordination with other Center for Transgender Medicine and Surgery services at BMC
*factoring in where the patient is in terms of medication and process, pubertal status, and age.
WEBSITE